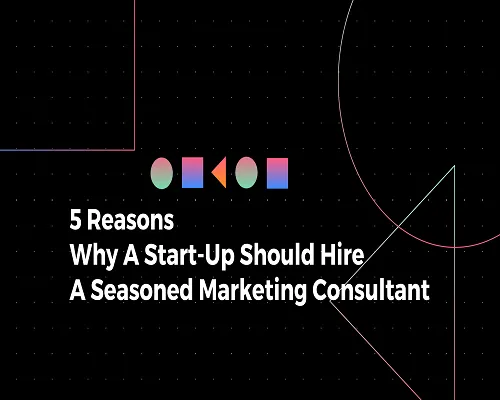 A well-planned marketing strategy is a crucial component of any business but how many start-up founders can pull this off?.
One question we often get asked by clients very early on in the inquiry stage is " How much will it cost to build my website?
The Answer – less than 5%.
The Reason – pulling off an all-compassing and winning marketing strategy is a challenge because:
The founders are racing against time
Doing it all alone
Have little or no experience of marketing
This eventually causes the brand to suffer due to limited visibility and insufficient lead generation to attract new clients.
Here are five reasons hiring a marketing consultant will help you excel from the very start.
1. You are free to do what you are best at and can focus on your core skills
Trying to do it all often means achieving nothing worthwhile especially if you are new to technology, marketing trends, and online marketing tools.
An objective review of your business situation and putting together a plan of effective strategies is part of a seasoned consultant's work.
Their expertise will free you to do your work.
2. Leverage a seasoned professional team on your side.
One of the best values marketing consultants bring to the table is their experience and frame of reference.
A good marketing consultant will look at your business, your vision, mission, and also the market, your competitors, and peers and bring the best practices to your advantage.
A seasoned consultant will cut the experiments in marketing, recommend what is best and save you crucial resources, time and money, in your journey.
3 Your brand does not gain from a piecemeal approach and firefighting.
As a start-up, often founders are racing against time, due to time constraints and too much on their plates.
Your business needs a long-term and dynamic marketing strategy. Your marketing consultant will create and implement a comprehensive marketing and social media strategy across all available marketing channels.
4. Objective recommendation of what works and what doesn't
They know how to plan and structure multiple marketing campaigns, time it right and use them to create momentum.
A seasoned and professional consultant has the objectivity to evaluate and measure what works well. They will explain to you how your current marketing channels are performing and what works and what doesn't.
5. Saving you time with faster implementation
No trial and error on platforms you have little experience with, no doubts about which is the best time to post or run an advertisement.
A good consultant, someone with cross-industry experience and an in-house team, has gone through years of launching and managing projects and has a proven track record of doing so.
About The Author