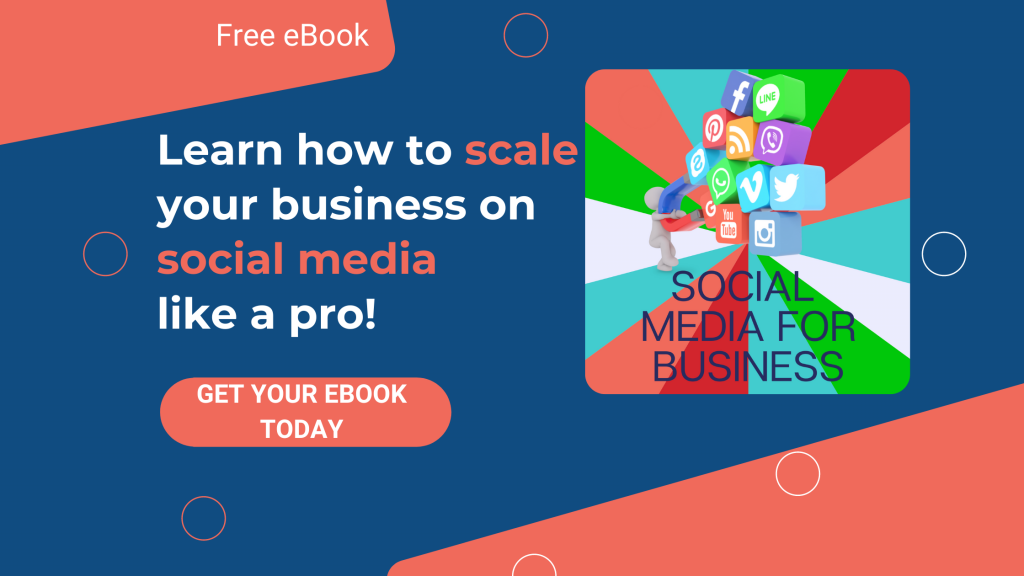 Are you a business owner who understands the power of Social Media but, just thinking about how to do it overwhelms you?
Are you a budding entrepreneur? You have great products/services and would like to build awareness and grow through Social Media, but don't know where to begin and what to do?
Are you a self-employed individual who would like to promote your expertise and increase your reach but, have not been so active on Social media, so feel a bit intimidated about where to begin?
Late to the game or a new entrant in the business world, this eBook is a beginner's guide to Social Media for Business.  A practical, simple-to-follow handbook. It will help you start, build and grow your social media presence for your business.
How Social Media Can Help Your Business?
As the name suggests Social Media started as a way to engage with family and friends. With time, social platforms evolved. From social networking, to photo and video sharing, professional networking, instant messaging, social media platforms have become an integral part of our lives.
Today, the lines have blurred, what was once considered personal online space is now the best space for businesses to connect with their potential customers and target audience.
The pandemic has changed the way we do business. Reliance on online channels has grown by leaps and bounds.
In 2020, there were over 3.6 billion social media users worldwide, a number that's projected to increase to almost 4.41 billion in 2025.
Why Use Social Media for Business?
1. Improves your online presence
Buyers today research online for specific brands or products they are interested in before making a purchase. Hence, building a strong online presence for your business is no longer optional. While having your own website is a great asset to have. It is equally important to complement that with an active social media presence.
Customers would like to see how your business is connecting with its audience. Is it real? Can it be trusted? Being active on social media helps to build the trust factor as well as build recall value.
Potential customers use social media profiles to gauge how businesses interact with customers. If they come across your Facebook or Instagram page and see you responding to comments and reviews, they will view your business favourably.
In fact, 63% of consumers who search for businesses online are more likely to use ones with an informative social media presence.
2. Helps You Attract Potential Customers
With over half of the world's population now on social media, these platforms provide a massive audience for businesses to connect with customers, increase brand awareness, and generate more leads.
It is a fast, effective and inexpensive way to reach a wider audience. Engage with your audience through content that is informative, engaging, entertaining, and adds value.
3. Helps You Connect With Your Audience
Social media helps you to start a conversation with your audience.
Ask for feedback, opinions, views from your existing as well as potential customers, get answers in real-time.
This has proven to be useful for businesses. They can improve customer service, tweak products and services and introduce new products/services based on the feedback from their audience.
4. Great Marketing Strategy
To be successful in modern marketing, you will need multiple channels to distribute your content. Marketers have realised the potential and the great ROI that Social media channels can offer.
It is best to start and build your social profiles organically through a researched and strategic approach.
Leverage the strengths of individual platforms with the right strategy. Integrate digital marketing in your marketing mix. Execute effective marketing campaigns by avoiding the common mistakes that lead to unsuccessful campaigns.
Some statistics to help understand the power of Social for Business:
54% of social browsers use social media to research products. (

GlobalWebIndex

)

90% of people on Instagram follow a business. (

Instagram

)

83% of people use Instagram to discover new products and services.

87% said they took a specific action, like making a purchase, after seeing product information. (

Facebook for Business

)
Do a deep dive into the topic to know how you can scale your social media for business like a pro and attract 10x more clients by getting your copy of the free eBook Social Media for Business.