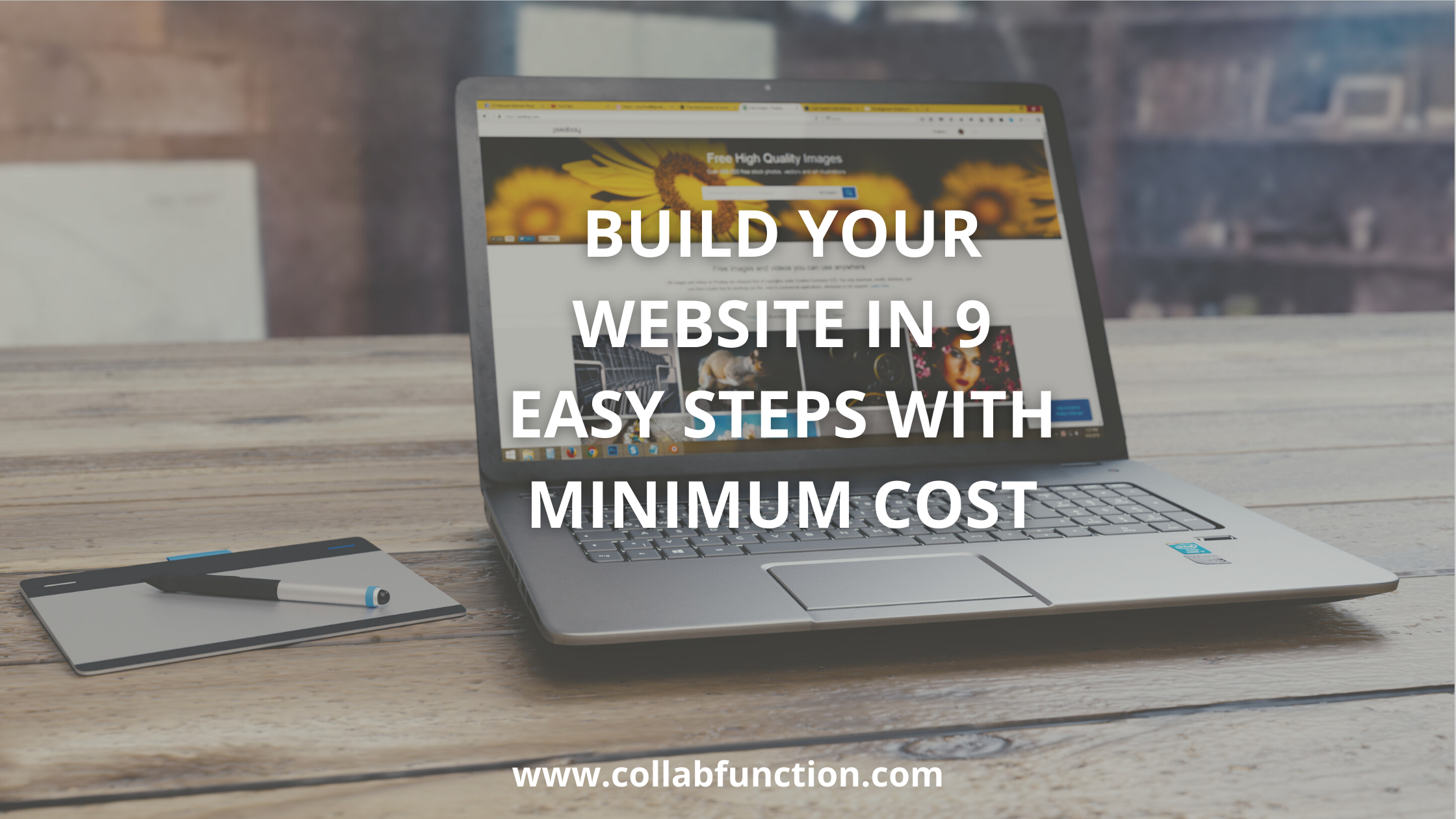 Interested to get a website for your business? Well, there are two options to choose from. Either get a web developer to take on this important project for you. Or take the DIY (Do-it-Yourself) approach.
Your decision on which route you take will depend on many factors. The most important one being, how much time and effort you can dedicate to this project. Your interest and patience in getting the site online is also something that you will need to factor in.
Believe me, when I say that no coding or prior tech knowledge is mandatory. I was from a non-coding/non-technical background and an entrepreneur myself when I first started exploring this field. I was a complete novice at it but, enjoyed creating my first site with Wix (almost a decade ago). WordPress was not an option then.
It takes time and effort to test the different options available. It did come with a lot of learning (which I am happy to share with you here). But it was also a time-consuming proposition.
My aim through this feature is to reduce time spent on trial and error and help you make an informed decision. By the end of this post, you will get an idea of the entire process. And will be well on your way to building your website using this easy-to-follow step-by-step method.
The pre-requisites before you can start building your website.
It is always good to get a sense of how much the website is going to cost you. I recommend you go through this feature 5 costs you need to know about before building a website. This will help you understand the various requirements you need to look into for a website.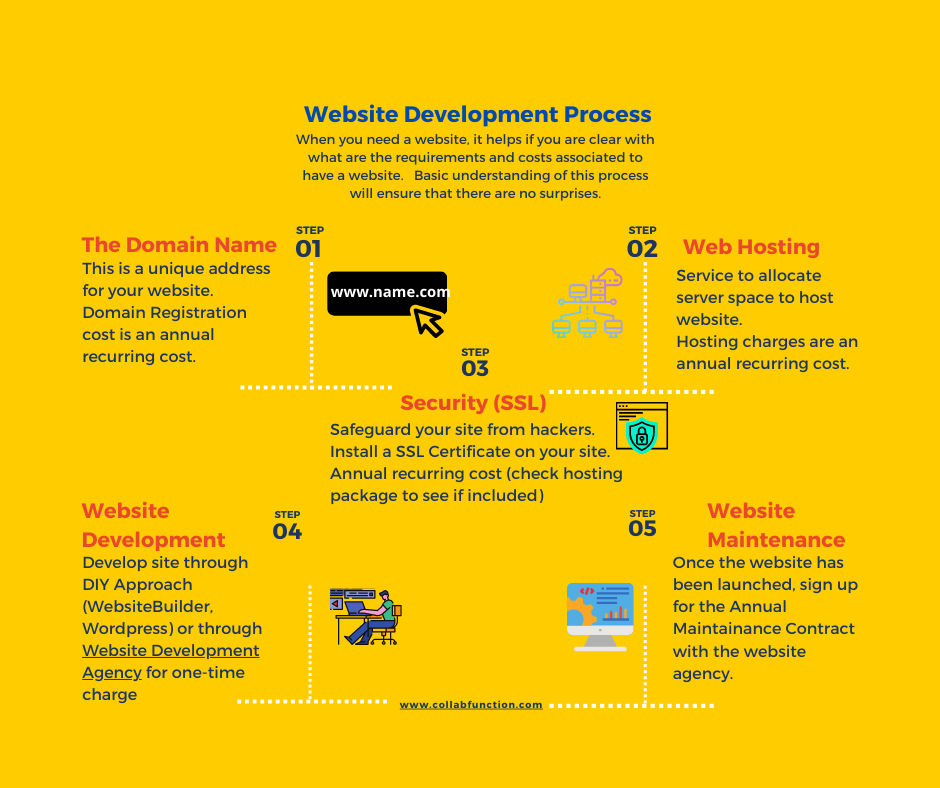 Now that you have an idea about what to expect in terms of cost, let's get started on the next steps.
How to build a website in 9 easy steps.
A quick overview of the process:
1. Identify the website's goal and strategy.
2. Check for domain name availability (do not buy it yet).
3. Review the website building options. Website Builder (Wix) or Free to use WordPress platform.
4. If you decide to use WordPress:
A. Review Hosting provider plans. Sign up for hosting services, domain name, and an SSL certificate.
B. Install WordPress through your hosting server dashboard. Onscreen prompts will guide you on what steps you need to follow.
5. Select a template/theme from the website builder/WordPress library and activate it.
6. Customise your site with the content, images, and new pages. Make sure that the colors and fonts match your brand image.
7. Add important apps/plugins to get extra features and functionality to your site.
8. Optimise your site for SEO.
9. Review your entire site on desktop, and mobile devices, make changes, and publish it.
Now let's get into the details of how you can build a website with minimum costs for your business or professional use.
1. Take some time to work through the goal of what you want to achieve through your website.
What is the purpose of the site? Is it for promoting your business and its services? Will it be for online sales (eCommerce)? Would you like to showcase your portfolio or blogs? Once you have this clear in your mind, it becomes easy to identify the kind of website you want and what you want it to convey.
2. Check unique domain name availability.
If you already have a registered business, you can check if the business name domain is available. Namecheap offers one of the lowest costs for domains. You can choose from .com, .co, .in, .me, etc. depending on which extension you would like to go in for and the nature of your website.
Keep the domain name simple, short, and relevant. Something that is easy for people to remember and associate your offerings with.
3. Now that you have the domain sorted, it's time to choose which website builder /platform you would like to go in for.
There are many website builders available. Priority is to find which one is right for you based on your requirements.
– Wix is a great website builder that is a popular choice due to its easy and quick website building capabilities. Other popular website builders include Squarespace and Weebly.
Pros of Website Builders (Wix)
Website builders are easy to use.
They are user-friendly. Most of them offer the drag and drop feature so it's easy to add/edit your website.
There is no coding required, it is fairly quick to set up.
There is no need of taking on domain name/hosting services/SSL as Wix is a hosted solution.
The downside of using Website Builders
You have to work with the available templates. This can be a bit restrictive in terms of design as well as customization.
While these builders offer free options, you may need to go in for the paid plan, especially if it is a business site. The reason being most features are available in the paid version. Plus if you need to link your site to your domain, it is not possible in the free version. So this could end up being an expensive option.
Limited third-party integrations.
This is the most widely used open-source platform to build websites. It's quite popular with bloggers, small businesses, freelancers, and corporations. And offers themes (both free and paid). It takes a little time to understand and navigate the dashboard, but once you start using it, it gets easier.
Pros of WordPress
Easy to use.
It easily integrates with a multitude of other plugins.
Customization is possible, you can even change your mind and change themes at any time.
The WordPress software is open-source and is available for free for anyone to use.
Some challenges with WordPress
It can be overwhelming at first, especially if you have minimal tech expertise.
You need to keep track of plugins and updates.
It has a steep learning curve in comparison to other website builders.
At the end of it all, you need to decide which one of these options works well for you. It once again boils down to the time, effort, budget, and which one of these is best suited to your needs. Do a trial of both and see which one works best for you.
4A. Decide on a hosting provider (this is not applicable if using a website builder)
If you are going ahead with WordPress, you will need to zero in on a hosting provider.
There are a good number of hosting providers that offer competitive hosting packages. Check out Bluehost, or Hostinger and book your hosting plan as per your need.
To begin with, a shared hosting plan should be suitable enough to take care of your requirements. Most of the hosting plans come along with a free domain name and SSL (security certificate). So this will take care of all your domain/hosting/SSL requirements.
Connect the Domain name to your hosting server.
4B. WordPress Installation
Once you have activated your hosting, you can install your WordPress site. Do this with ease with a click of a button on the hosting server dashboard and follow the onscreen prompts to install WordPress.
5. Select your template (Wix) or free theme (wordpress.org) for your website from the gallery.
WordPress.org has loads of free themes that you can choose from. If you are looking for something exclusive then log on to WordPress.com and check out the paid themes that are available there.
6. Time to customize your site.
Take some time to list down what you want to put up on your site. It is important to have a site map of your website ready with you. It lists down the pages/sub-pages of your site.
What will be the color theme? (base them on your brand colors) Add the content, images, and sections that you want. Include CTA's (call to action buttons) so that you can guide your website visitors on what they need to do next.
Work towards having a visually appealing and functional website. Ensure that your content is crisp and clear and gives the right message. Take the help of a content writer, in case you think you want to outsource this requirement.
Break the monotony of the site with eye-catching images. You can access the free image's for use on your website from various image-sharing sites. Check out Pexels, Pixabay for free images.
Use  Canva to create your website banners.  This is a great, easy-to-use design tool that needs no prior graphic design experience.  Canva has a free and paid version.
7. Add apps (Wix) plugins and third-party integrations (WordPress).
Looking for a specific feature or functionality on your site? Check out the plugins/apps that can help you with it. Most plugins offer a free and paid version.
Connect to Important plugins like:
Google Analytics – you can track your statistics from your WordPress dashboard itself. Plus it's free.
All in one SEO or Yoast SEO – this will help you optimize your website for SEO
JetPack – a pack of multiple plugins.
Marketing plugins – Get Response, Mail Chimp, or Convertkit. Build your newsletter subscriptions. They even help with the creation of free landing pages, emailers, etc.
Social Media Share Buttons
Updraft Plus – Helps to backup your site.
Elementor Page Builder – Can use this to design different layouts for your pages.
Smush Image Compression – Compress images for quick site load
8. Optimize your site for SEO
Install SEO plugin.
Add appropriate plugins to help you compress your images so that they can load faster.
Image Alt Text for every image you load on the site, add a description in this field.
Add your logo, site title, and meta description to your site so that your information shows correctly in google searches.
9. Review your site
Check if all elements are appearing as required, and get another set of eyes to go through your site. Test your site on desktop/laptop and mobile devices to check if the site is showing correctly. Tweak it for final changes, and once all is OK, hit the publish button and launch your website.
Make sure to continue refreshing content and text. Update plugins, take backups at intervals, and keep your website current. Keep an eye out on what your competitors are doing, and analyze your website statistics and visitor behavior. Once you have mastered how to navigate and build your site, you can continue improving based on analysis and drive more and more visitors to your site.
Do share your experience in the comments section. In case you need a hand at something, do give us a shout-out in the comments section below, and we will try out best to help you out.
Our website is supported by our users. We sometimes earn affiliate links when you click through the affiliate links on our website at no cost to you. Learn more .